Obama shares a birthday and a smooch with Helen Thomas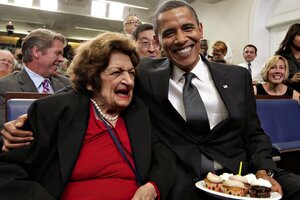 J. SCOTT APPLEWHITE/AP
It got pretty raucous in the White House briefing room today. Singing, eating, smooching. Pure bedlam.
Well, maybe not bedlam. But there was some singing -- as in "Happy Birthday." The eating? Of cupcakes. As for the smooching, President Obama planted a kiss on veteran White House correspondent Helen Thomas' cheek.
Thomas and Obama share the same birthday, but only a few years apart. Today is the president's 48th while racks up her 89th.
Oddly, they share the same birthday wish. Well, that's if you believe Thomas' spokesperson -- President Obama. He stepped in for Thomas when questions were asked about her birthday wish.
"She and I share a common birthday wish," he announced. "She said she hopes for a real health care reform bill."
For some reason that was received with much laughter (unlike the more dour response the White House had for Matt Drudge).
Anyway, after Obama posed for a picture with Thomas and left the room, Press Secretary Robert Gibbs quipped that "We didn't tell Helen ahead of time." There has been some controversy in recent days about reporters being told in advance that they would be called on for a question at a presidential press conference.
---