Sotomayor is a shoo-in, but the Senate vote still matters
Democrats have the votes to approve her nomination to the Supreme Court this week. But Hispanics and the National Rifle Association – among others – will watch how senators vote.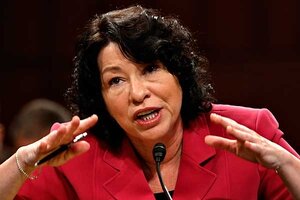 J. Scott Applewhite/ AP/ File
The Democrat and Republican leaders took to the floor of the Senate on Tuesday and began what is expected to be a spirited debate over President Obama's nomination of Sonia Sotomayor to the Supreme Court.
There is no doubt about the outcome, analysts say. Judge Sotomayor already has more than enough committed votes to win confirmation.
But the stakes in the debate extend beyond filling a high court vacancy. The National Rifle Association, which opposes Sotomayor, has put senators on notice that the group will weigh the Sotomayor vote in its annual rankings of individual lawmakers.
In addition, there is concern among Republicans that a vote against Sotomayor could hurt their future prospects with Hispanic voters, an increasingly important segment of the American electorate.
Sotomayor is the first Hispanic named to sit on the Supreme Court. If confirmed she would also become only the third woman to serve as a justice.
In his comments on the Senate floor, majority leader Harry Reid emphasized the historic nature of the nomination. He focused on Sotomayor's academic achievements at Princeton and Yale Law School and her record as a federal trial and appeals court judge.
"She has developed a 17-year record as a moderate, mainstream judge," he said.
---