Jefferson's bribery conviction: a mixed legacy
Justice Department prevailed in the infamous 'freezer cash' case, but it lost ground in law enforcement's ability to wiretap or investigate members of Congress.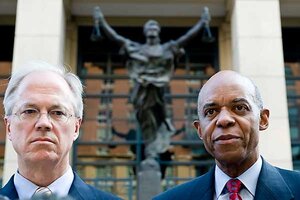 Kevin Wolf/AP
Federal prosecutors this week won their case against former US Rep. William Jefferson, who is expected to go to jail for bribery and public corruption. But there's a bittersweet quality to their victory: In the end, the legacy of this case may be that members of Congress actually gained protections from corruption investigations.
Mr. Jefferson – a nine-term Democrat from Louisiana before he was voted out of office in 2008 – became famous for stashing $90,000 in marked bills in his home freezer. But he also gained notoriety as the first member of Congress to have his office raided by the FBI.
The raid was later repudiated by the courts – which backed up congressional leaders' contention that such intrusions gave the executive branch access to constitutionally protected materials related to a lawmaker's official duties, including floor speeches and committee work.
"The search of Jefferson's Rayburn House office is having serious repercussions for all other criminal prosecutions for members of Congress," says Melanie Sloan, executive director of Citizens for Responsibility and Ethics in Washington (CREW), which is tracking investigations of 16 members of Congress.
Advance notice of a search
---