Clinton's stop in South Africa is a fence-mending occasion
Relations have been strained by old disagreements over Pretoria's policies on HIV and Zimbabwe. New leadership in both countries may change that.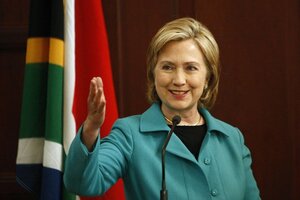 Siphiwe Sibeko/Reuters
Secretary of State Hillary Rodham Clinton, in South Africa Friday as part of a seven-nation tour of the continent, intimated that Washington and Pretoria are seeing things more eye to eye than has been the case in recent years.
Under previous administrations in both countries, conflicts had arisen over how to address the spread of HIV in South Africa and how to pressure Robert Mugabe, dictatorial leader of neighboring Zimbabwe, into resolving that nation's political crisis.
"The relationship was fraught with far more difficulty than the previous administration was willing to acknowledge," one of Mrs. Clinton's aides told The New York Times en route to South Africa. "We had little access and even less influence."
Hopes for increased cooperation seemed in evidence Friday.
Clinton, in a joint press conference with South African Foreign Minister Maite Nkoana-Mashabane, said the US is eager to "broaden and deepen our relationship." Ms. Nkoana-Mashabane, in an apparent effort to break with the past, characterized relations during the Bush years as being "without proper coordination."
Regarding the situation in Zimbabwe, Clinton intimated that South Africa has, on its own, moved closer to the position held by the US.
"South Africa is very aware of the challenges posed by the political crisis in Zimbabwe because South Africa has 3 million refugees from Zimbabwe," Clinton said after her meeting with Nkoana-Mashabane, according to Reuters.
---