Illinois corruption includes state's largest school systems
The University of Illinois and Chicago's best public schools are charged with granting admission to children of donors and the well-connected.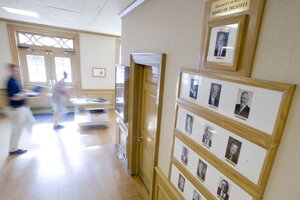 The News-Gazette/AP
The two largest public school systems in Illinois are under scrutiny, with federal prosecutors investigating links between important admissions decisions and political clout.
The University of Illinois and the Chicago Public School system are involved in separate cases that involve possible manipulation of the admissions process by state power brokers, which in the university case, includes disgraced former governor Rod Blagojevich and convicted influence dealer Tony Rezko.
A report published Thursday by the Illinois Reform Commission said unqualified students were accepted to the University of Illinois' most elite programs including law, business, and medicine as the result of a "shadow admissions process." Between 2003 and 2007, for example, the college of law wrongly admitted about 24 politically-connected applicants in exchange for scholarship money, according to the report.
The report recommends that University Chancellor Richard Herman and all nine trustees at the University of Illinois voluntarily submit their resignations; three trustees had already done so by Friday. The remaining trustees have been given until Sept. 11 to resign.
On Friday Illinois Governor Pat Quinn said the scandal threatened to diminish the university's "reputation of one of the greatest institutions on planet earth." "The university's interests have to be paramount," in reforming it, says Gov. Quinn.
Thomas Hardy, executive director of the office of university relations, said Mr. Herman is not resigning but instead is convening a university-wide "admissions summit meeting" next Wednesday to discuss reform measures he wants in place before the admissions cycle starts in September.
---