Latest GOP setback: Florida's Senator Martinez to retire early
Six other Republican senators have announced they'll retire. The exits are a sign the GOP sees itself in 'back seat' for years, say analysts.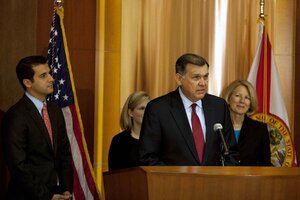 Scott Audette/Reuters
In a move long rumored and often denied, Sen. Mel Martinez (R) of Florida announced on Friday his early retirement from the US Senate, effective as soon as he can be replaced.
The resignation comes at a tough time for his Senate GOP colleagues. With the election of Sen. Al Franken (D) of Minnesota, they fell below the 41 votes needed to sustain a filibuster for the first time since 1977.
With the loss of the filibuster, the most powerful weapon of a Senate minority, "Republicans realized that they were in the back seat in the Senate – and would be in a back seat in the federal government for years to come," says Larry Sabato, a political scientist at the University of Virginia in Charlottesville.
---