Senate's 'Gang of Six' key to healthcare reform
Finance Committee chairman Baucus tries for bipartisanship. But critics in his own party worry that could weaken overhaul legislation - especially provisions for children.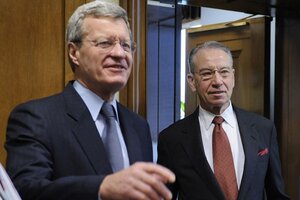 J. Scott Applewhite/AP/File
Congress has left the building.
Four out of five committees of jurisdiction have completed work on an overhaul of the US healthcare system -- three in the House, one in the Senate. And members are back in their states and districts defending -- to sometimes-raucous town meetings -- a health plan that does not yet exist.
But the endgame for healthcare reform still turns on six bipartisan negotiators on the Senate Finance Committee -- and the army of interest groups invited in or out of the cone of silence.
Their clout is the number 60. That's the number of votes it takes to break a filibuster in the Senate, and with members absent for health reasons, Democrats need GOP votes to get to 60. The only panel with a claim to a bipartisan strategy is Senate Finance.
The Gang of 6 has missed self-imposed deadlines since March, but is running up against a mid-September deadline that may signal the limit of how long the White House and congressional Democratic leaders are prepared to wait for the last panel to get it done.
---