Sotomayor is sworn in, but the politics are far from over
It's a dilemma for the GOP, particularly among Hispanic voters. But Democrats could feel a backlash if she's perceived as too liberal.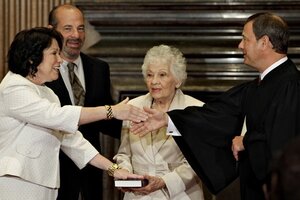 J. Scott Applewhite/AP
The swearing in of Sonia Sotomayor as the nation's first Hispanic and third woman to sit on the Supreme Court of the United States was decidedly nonpolitical. President Obama had decided not to attend, and the ceremony was at the high court itself -- not in the White House, as had been the practice for decades.
The picture of solemnity and celebration as Chief Justice John Roberts administered the judicial oath before TV cameras -- another first -- was in sharp contrast to the highly-partisan and sometimes rancorous confirmation run-up to Saturday morning's historic event.
But are the politics of Associate Justice Sotomayor's appointment now over? Far from it.
In the Senate confirmation vote, all but a handful of Republicans voted against her, and many see this as trouble for a party increasingly rejected by Hispanic voters. And it's not just Democrats making this point.
Conservative MSNBC host Joe Scarborough (a former Republican congressman) said this about the GOP's action on Sotomayor: "What's wrong with them? … It's about as short-sighted and stupid as any political move this year."
The first test could come in the midterm elections next year.
---