Who learned what in Gates race debate
The flap over the arrest of the black Harvard scholar sparked a spirited national discussion, but did it turn out to be a 'teachable moment'?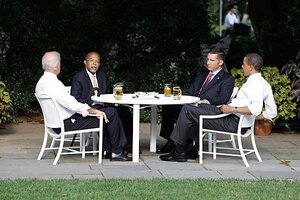 Alex Brandon/AP
President Obama may have sensed the country's mood when he picked the spot to discuss race in America. Not a hall, convention center, TV studio, or even the Oval Office.
A picnic table.
The president's informal chat July 30 with Harvard scholar Henry Louis Gates Jr. and Sgt. James Crowley – the police officer who arrested Dr. Gates at his own home for disorderly conduct on July 16 – followed a spontaneous national debate that, in many ways, proved to be more candid and spirited than President Clinton's somewhat academic "national discussion on race" in 1997.
The confrontation between a scholar of African-American studies and a blue-collar cop in Cambridge, Mass., reverberated across the nation, and from Berkeley, Calif., to New York the dialogue about it was frank, frustrating, and far from conclusive. At least two Americans – a Boston police officer and a Manhattan press secretary – left their jobs after chiming in, and even after the White House picnic, the two protagonists "agreed to disagree," in Crowley's words.
---