California gay-marriage groups disagree on date for ballot
Equality California said Wednesday it is targeting the 2012 election. But other groups want to do it next year. The rift could hurt their campaign.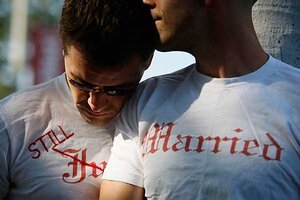 Lucy Nicholson/ Reuters/ File
2010 or 2012? That question appears to be driving a wedge between California's leading gay-marriage proponents.
Some groups want to ask voters to reconsider the state's ban on same-sex marriage as soon as next year; others say that's far too soon to return to the ballot box.
On Wednesday, one of the state's largest gay-rights groups, Equality California, went public with its conclusion, saying it was targeting 2012. The debate has been percolating in the gay and lesbian community since March, when the state's Supreme Court upheld Proposition 8. The proposition limits the definition of marriage to a man and a woman and was passed by 52 percent of California voters in November.
"We really think that we have a shot in the next three years. But we have one shot, we don't have two shots. We're not waiting at all. We're going hard. But we think the campaign is a three-year campaign," Marc Solomon, Equality California's marriage director, told reporters.
Other groups, however, are still working to bring the question to voters in a ballot initiative next year.
This split among the gay and lesbian groups working to overturn Prop. 8 could weaken that community's push to legalize same-sex marriage here, some gay-rights groups fear. According to the American Civil Liberties Union (ACLU), which actively campaigned against Prop. 8, both 2010 and 2012 could be too soon.
"It's a little bit frustrating that there is so much community energy devoted to this debate [about the date]. What we should really be doing is focusing on changing people's minds on this issue," says Elizabeth Gill, a staff attorney with the ACLU of Northern California.
The Prop. 8 campaign last year showed that advocacy groups certainly made mistakes.
---