How's Obama faring in the Rocky Mountain West?
The president, in Montana on Friday and Colorado on Saturday, has so far taken care not to alienate 'New West' swing states. But rumblings are nonetheless afoot.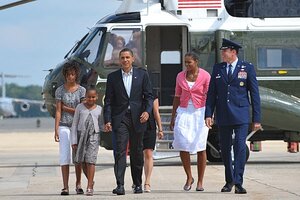 AFP/Newscom
Barack Obama has said he loves the Rocky Mountain West and, last November, this little corner of it reciprocated.
Though he lost Montana in the presidential election, Mr. Obama carried Bozeman and surrounding Gallatin County, the first Democrat to do so since Franklin Delano Roosevelt in 1944, notes political scientist Jerry Calvert, at Montana State University here. He won Colorado, New Mexico, and Nevada.
But that blip of support could be tenuous. Though changes in the interior West – which the president and first lady visit for three days beginning Friday – have brought newcomers whose sensibilities are less rock-ribbed Republican than the old-timers', the region's pervasive streak of independent-mindedness means the New West can hardly be considered Democratic Party turf. To keep at least some places in the "swing state" column, Obama will need to step carefully to avoid the mistakes of the last Democratic president, Bill Clinton, say political analysts in the region.
---