Obama and Montana's Baucus: Who needs whom?
The president visited the senator's home state Friday, even as Baucus works to get GOP support for healthcare reform. Both men are being blasted from the left and the right.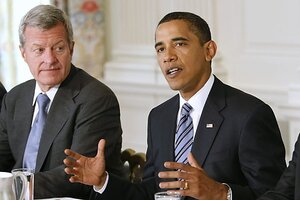 Kevin Lamarque/Reuters
Why Montana?
President Obama could hold a town hall meeting on healthcare anywhere. But he headed west Friday – way west – to revisit a state that not only gave him a boost in last year's Democratic primary election but that also is home to a certain US senator whose work on healthcare reform could be pivotal to the young administration's success on this issue.
(There's also, of course, the allure of Yellowstone National Park, which the first family will experience while they are in this neck of the woods.)
In some ways, Montana is a nerve center in the national debate now raging over healthcare reform. In no small measure this is owed to the fact that a major player and potential Obama ally is Sen. Max Baucus, a six-term Democrat hailing from a ranch near Helena who is also chairman of the Senate Finance Committee. If there's to be any bipartisan support in Congress for a plan to expand health coverage in America, that's the committee where the deals will probably be cut.
"My first impression when I heard that Obama was coming out here is that he wanted to send a gentle but not-too-subtle message to Baucus that the senator needs to bring forward a healthcare plan the president wants," says Jim Gransbury, who recently retired as the state's elder political journalist for The Billings Gazette.
On Friday the president talked with Baucus constituents about what it is he does want, and why. Tension over this issue has been building here for months.
---