Obama wins over a Montana crowd on healthcare
And he has high praise for Max Baucus, the state's U.S. Senator who heads the crucial Senate Finance Committee.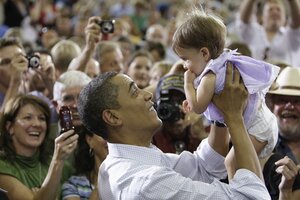 Alex Brandon/AP
President Obama flew cross-country Friday into a headwind of rural anger and suspicion about his healthcare reform package. And the mood of the town hall meeting awaiting him at an airport hangar in Belgrade, Mont. was framed by severe weather and about 800 "tea party" protesters gathered on the western horizon.
But in the end, as a hail storm sent the demonstrators outside scrambling for cover, the 1,200 citizens indoors were not only receptive to what Obama said, but gave him standing ovations.
Of 20 different individuals interviewed by the Monitor as they left afterward, all but one said they supported the president's plan.
In another gesture indicative of how two different Democratic approaches to healthcare reform may be converging before Congress returns this fall, Obama gripped Montana's US Senator Max Baucus in a bear hug. The president was profuse in his praise for Sen. Baucus who, as chairman of the Senate Finance Committee, is the spearhead in any hope the Obama administration has of getting legislation passed in Congress.
Able to spy the crowd of protestors from his cabin in Air Force One, Obama artfully worked the room and deliberately sought out the questions of skeptics who admitted their attitudes were shaped by the coverage of cable TV.
The forum began with a testimonial from a young woman named Katie Gibson who had two different insurance providers revoke her coverage after she was diagnosed with a life-threatening illness.
---