Like past presidents, Obama celebrates the grandeur of Yellowstone
It's also a chance for the president to see how national parks - likened to Europe's cathedrals - need political and fiscal support.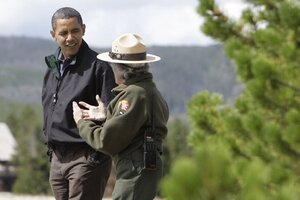 Alex Brandon/AP
Yellowstone National Park, Wyo.
Presidents have been making the cross-country jaunt to Yellowstone National Park for 116 years, part of a summer ritual known to generations of Americans. This weekend, President Obama joins a tradition that began long before Air Force One or even the automobile were invented.
"The love affair that the American public has with Yellowstone as a shrine certainly extends to the White House," says Lee Whittlesey, Yellowstone's chief historian.
While in office, nine presidents have visited the granddaddy of all modern national parks and most, Whittlesey says, arrived here for vacation purposes. Obama will be number ten, though he stopped by for just a few hours.
"The fact that he arrives with his wife and children underscores the continuing power of Yellowstone as a place to nurture togetherness in nature," says Whittlesey. "I believe it probably gives most Americans great pleasure knowing that our first family is making its own pilgrimage to this famous place in the still-wild West."
Unlike the nature-loving Russian Prime Minister Vladimir Putin, who in recent summers has showed off his physical vigor by riding horseback shirtless through the forested countryside, Obama's romp is decidedly different -- a stopover between town hall meetings before continuing on to the Grand Canyon in Arizona.
---