The reshaping of the GOP
The most fertile ground for Republicans is the growing ranks of independents. And efforts to rebrand the party from the inside are prompting a stir within a new generation of young politicians.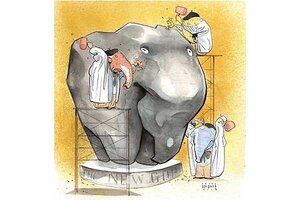 Steve Brodner
There's a slight spring in the step of Republicans these days. President Obama is stumbling on health reform and his job approval rating is sinking. Suddenly, life in the wilderness doesn't look so bleak to a GOP that got trounced in the last two elections and was, to some, staring possible extinction in the face.
The party could well take two key governorships – New Jersey and Virginia – away from the Democrats in November.
Recruiting for next year's House, Senate, and gubernatorial races has gotten easier, in anticipation of midterm elections that historically favor the out-of-power party.
Already, top Republicans are cautioning against overconfidence.
"We are doing better," says House minority leader John Boehner. "But let's be honest, we've got a long way to go."
Mr. Boehner wants Americans to judge politicians on what they do, not what they say. But these days, words are just about all Republicans in Washington have. With the Democrats running the show, it's hard to get anyone to pay attention to GOP policy ideas. And it's not as if they're coming out with anything markedly different from before: The latest House GOP proposal for health reform centers on the use of tax credits to help modest-income Americans buy insurance.
---