Democrats on healthcare: going it alone or not?
The White House appears to be sending out conflicting messages, but that could be intentional ambiguity designed to keep several options on the table.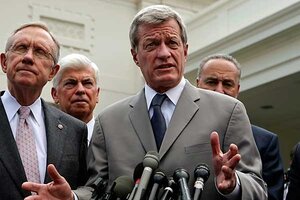 J. Scott Applewhite/ AP/File
At first blush, it may seem the White House has been contradicting itself lately.
In The New York Times Wednesday, White House chief of staff Rahm Emanuel appeared to buttress the media's assertion that Democrats are now prepared to go it alone in passing healthcare legislation.
"The Republican leadership," he said, "has made a strategic decision that defeating President Obama's healthcare proposal is more important for their political goals than solving the health insurance problems that Americans face every day."
Yet White House press secretary Robert Gibbs told reporters Wednesday that media reports were wrong.
"We continue to be hopeful that we can get bipartisan support" for reform, said Mr. Gibbs, whose daily sparring with the press usually contains some version of "our strategy has not changed."
In all likelihood, the two men are engaging in creative ambiguity, designed to send signals to multiple audiences – friend and foe – and keep options open as long as possible. After all, as Gibbs himself pointed out, it's still August. Crunch time for passing reform by the end of the year is still months away. The longer the White House is able to keep its options open, the greater its chances of settling on a firm position that can pass both houses of Congress.
---