'Should a Senate vacancy occur,' who might replace Kennedy?
The ailing senator is thinking about his succession. The likely candidates can be divided into Kennedys and non-Kennedys.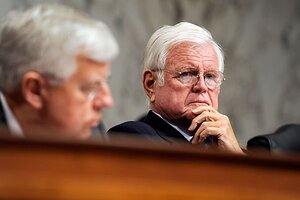 Susan Walsh/AP/File
Sen. Edward Kennedy did not specifically mention his illness or indicate that his resignation was imminent when he sent a letter to Massachusetts lawmakers.
But in the letter, released, Thursday, he did ask for legislators to change the state's procedure for filling vacant senate seats, allowing the governor to appoint a temporary replacement "should a Senate vacancy occur."
Senator Kennedy went so far as to recommend that the governor obtain a personal promise that whomever he appoints will not run for Kennedy's seat in the special election.
But who might be able to step in, both as temporary "caretakers" and as candidates in the special election?
Kennedy's potential successors are often grouped into Kennedys and non-Kennedys.
Caretakers
The first caretaker offer would likely be extended to the senator's wife Vicki Kennedy. "That would be good political manners," says Jeffrey Berry, a political scientist at Tufts University in Medford, Mass. She would likely refuse given the timing of the offer, but she could be a contender in the special election.
---