'Death panel' controversy remains very much alive
Even some conservatives call the issue bogus. Meanwhile, the healthcare debate shifts to 'rationing.'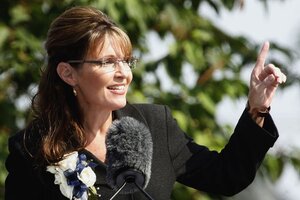 Al Grillo/AP/file
The "death panel" debate – it's still alive.
The White House has pushed back hard against the notion – spread by former Alaska Gov. Sarah Palin, among others – that healthcare reform legislation might set up "death panels" that would control access to end-of-life care for the elderly.
"The president's made some discernible progress on the mistruth about government making end-of-life healthcare decisions for seniors, which obviously isn't going to happen," said White House Press Secretary Robert Gibbs on Friday. "It's not in the bill."
But some liberal groups have flipped the argument on its head, saying that private insurance firms, with their power to deny claims by policyholders, are the real "death panels." And some Republicans have used the "death panel" term as a jumping-off point to discuss a larger issue – government rationing of services, which they say might be the result of healthcare reform's passage.
"When Sarah Palin said that the emerging healthcare reform legislation would lead to 'death panels' and government rationing of care, her language was explosive, but her premise about rationing was not," wrote former Speaker of the House Newt Gingrich in a Los Angeles Times opinion article this week.
Palin's "death panel" charge pointed at a provision in the House version of health legislation that would fund voluntary end-of-life counseling sessions. It has been widely debunked by fact-checking journalism organizations. The Pulitzer-prize winning site Politifact gave Palin a "Pants on Fire" designation for the remark.
---