Is there a connection between healthcare reform and gun rights?
Yes, if there's a centralized medical database. It's one reason some people are showing up armed at town hall meetings.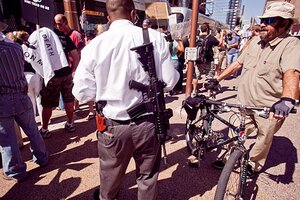 Jack Kurtz/The Arizona Republic/AP/File
Many people were startled to see a man bring an AR-15 assault rifle to the vicinity of a presidential town hall on healthcare in Phoenix on Monday. His intent, he told reporters, was to show his willingness to "forcefully resist" an overreaching government.
He broke no laws, police say, and he was not a threat to the president. But it turns out there's an actual connection between gun rights and healthcare reform, at least according to one gun lobby.
Gun Owners of America director Larry Pratt says that a Democrat-sponsored government-run healthcare system with a centralized patient record database could keep guns out of the hands of "gazillions" of lawful Americans.
"If this becomes law, there's no place to escape" if the government wanted to use federal medical records to deem citizens "medically unfit" to carry a gun, says Mr. Pratt. "No trial, no due process, just gone."
Pratt's critics agree there are some legitimate privacy concerns around having a central medical data repository.
But they point to an independent 2008 report showing that 90 percent of so-called disqualifying records for a gun purchase are not in the National Instant Criminal Background Check System (NICS). A central medical records system could, therefore, help enforce federal laws that ban those who have been adjudicated as a "mental defective" or who have spent time in a mental institution from buying a gun.
Making sure that those who don't qualify for gun ownership under federal law are identified "is the public's business," says Ladd Everitt, a spokesman for the Coalition to Stop Gun Violence, in Washington. "But just being sick doesn't prevent you from owning a gun."
---