Obama decries healthcare 'myths' as Republicans push back
In his radio address, he takes on "death panels" and other "outrageous" charges. In rebuttal, Rep. Tom Price slams "Democrats' government-run health plan."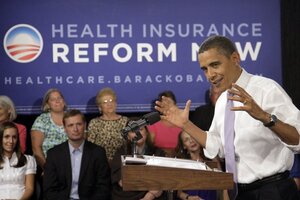 Alex Brandon/AP
The Obamas have left Washington for some R&R, but the battle over health reform rages on.
In his weekly radio/video address, recorded before leaving town, President Obama slammed his opponents Saturday for spreading what he called "willful misrepresentations and outright distortions" over his plans for comprehensive reform of the healthcare system.
Rep. Tom Price (R) of Georgia, in the GOP reply, slammed what he called "the Democrats' government-run health plan." His line of argument was buttressed on the ground around the country on Saturday, as the antitax "tea party" movement held anti-"Obamacare" rallies.
Obama devoted his radio remarks to "debunking some of the most outrageous myths" circulating about what the Democratic reforms would do:
• That illegal immigrants will get health insurance under reform. "That idea has never even been on the table," Obama said.
• That reform will produce a government takeover of healthcare. He attributed this accusation to confusion over the so-called "public option," a proposal for a government-run health insurance plan that would compete with private plans. "It would just be an option; those who prefer their private insurer would be under no obligation to shift to a public plan," Obama said.
---