Five questions for Ben Bernanke
The Senate is likely to confirm him, but not without asking things like 'How soon will you raise interest rates?'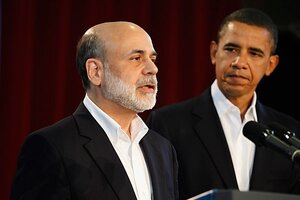 Stephan Savoia/ AP
It's likely that Ben Bernanke will win Senate approval for a second term as chairman of the US Federal Reserve. Even his critics admit that. Financial markets might swoon if they thought their mild-mannered hero – who arguably helped stave off a depression last fall – was about to get the boot.
But that doesn't mean he won't get asked some hard questions at his confirmation hearing. The Fed's semi-autonomous role in American economic life is always a matter of deep interest on Capitol Hill. Plus, Senators are sure to want to question him about the legality, depth, and wisdom of everything from the federal government's bank bailout to its investments in GM and Chrysler.
So, yes, the Fed chief passed one test by winning President Obama's nod for renomination. The second test awaits.
"Bernanke still faces potentially tough confirmation hearings in the Senate," said Brian Bethune, chief US economist of IHS Global Insight, on Tuesday.
Here are five topics that Senators are likely to touch upon:
WHEN ARE YOU GOING TO TAKE AWAY THE PUNCHBOWL? Since financial markets turned shaky last year, the Fed has pumped massive amounts of liquidity -- i.e., cash -- into the economy, via such efforts as the bank bailouts (otherwise known as the Troubled Asset Relief Program), backing of securitized consumer loans, and continued aggressive reduction of interest rates. It's been an unprecedented infusion that helped keep world commerce going. But at some point, it has to end.
---