Trillion-dollar deficits: How serious are they?
The White House predicts $9 trillion in red ink from 2010 to 2019. But the Congressional Budget Office estimates $7 trillion. What's an ordinary taxpayer to make of the confusing numbers?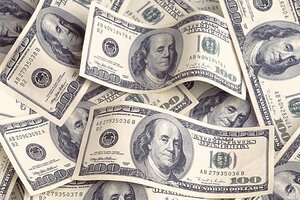 NEWSCOM
Yikes! Projections for the future deficit of the US government just keep getting scarier. On Tuesday, the White House released new figures predicting a cumulative $9 trillion in red ink from 2010 to 2019. That's $2 trillion more than the administration had estimated just in May.
But wait: Maybe things aren't so bad after all. The Congressional Budget Office also released a new deficit forecast on Tuesday: a 10-year shortfall of a mere $7 trillion. That's not much worse than CBO's last prediction.
What's an ordinary taxpayer to make of all these confusing numbers? Is the government's fiscal situation getting worse or not?
Take a deep breath. Think of something calming, like those surpluses Uncle Sam used to run only a few years ago. Then remember two points:
(1) Ten years from now is the other side of the moon, budgetwise. Between now and then, the United States will experience five congressional elections, two presidential votes, and innumerable policy decisions that affect government spending, points out Stan Collender, a partner at Qorvis Communications and a former congressional budget official.
(2) When it comes to long-term budget projections, the trend line is more important than the actual dollar figures. And that line is going in the wrong direction – down, toward more red ink.
---