Defiant Sanford refuses to resign, S.C. politics 'paralyzed'
The focus now shifts to a meeting of state House leaders this weekend. Top of the agenda: Should the legislature start impeachment proceedings against the governor?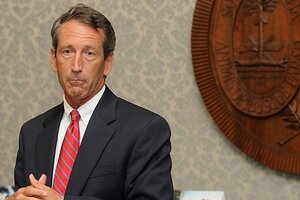 Virginia Postic/AP
His wife left the governor's mansion. His own party has censured him. And even Mark Sanford's own right-hand man, Lt. Gov. Andre Bauer, now says the embattled executive and one-time presidential aspirant should step down for the good of the state.
Yet Republican Mark Sanford marches on, his determination to stay on as governor seemingly fueled by every hint that he should step down.
On Wednesday, Mr. Sanford rebuked the call by Mr. Bauer for him to resign. Bauer is the first constitutional officer to join a veritable chorus of resignation calls from around the Palmetto State's political gallery.
"As much as it would represent heaven and earth for me to take [Bauer] up on that offer, it'd be wrong for a couple of reasons," Sanford rebutted. "We have a real opportunity to do some profound things with regard to restructuring, spending, jobs and the economy, that have never been there before in history, at least in my administration, and that I do want to make the most of. That's what I want to aim at."
Sanford has 16 months left in office – his last because of South Carolina term limits. Bauer is a Republican, lieutenant governors in South Carolina are elected separately from the governor.
Behind the push to oust the governor is what Sanford called "pure politics, plain and simple" that touch on the fact that South Carolina's top leadership position may now be in play for Democrats – and that "the Sanford Affair" has put Republicans in scramble mode to ensure that they keep control of Columbia. Sanford put it more bluntly, noting that political enemies have decided to use the scandal for "payback."
---