Three speeches that defined the 'Lion of the Senate'
Sen. Edward Kennedy had his share of verbal gaffes – some of them costly – but he will also be remembered as an impassioned orator.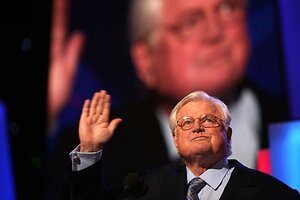 Melanie Stetson Freeman/ The Christian Science Monitor
Along with a legislative record of historic scope, Sen. Edward Kennedy (D) of Massachusetts will be remembered for a legacy of words that glowed, at least in public.
He wasn't called the Lion of the Senate merely out of respect for his seniority or gravitas. Senator Kennedy roared his words. His classic speeches settled into a rhythm that flung perfectly balanced phrases at the far end of a union hall or Senate chamber.
But in private – or for the occasional all-important television interview – the other Kennedy showed up. That Kennedy could slip into a tangle of partial sentences, ums, and ahs, leaving listeners confused.
His rhetoric has, at the best times, won him admirers on both sides of the aisle as a straight and forceful speaker. At the worst, it cost him dearly in his bid for the presidency. But it was one of the quirks that defined him as a Kennedy to those that knew him best.
"Even his very best friends have noted for years that his method of speaking is a kind of shorthand in which, like other members of the Kennedy clan, they seem to understand each other very well but nobody else does," says Edward Klein, who wrote the 2009 biography, "Ted Kennedy: The Dream that Never Died."
Union lobbyist and friend of 40 years Bobby Juliano describes Kennedy as "a magnificent orator, but sometimes when chatting he can become a little bit wandering."
To Mr. Juliano, it was a sign "of a very fertile mind." But to some outsiders, the half-sentences and pauses fueled whispers that Kennedy was not as impressive as the bright people he hired to work for him.
---