For Massachusetts mourners, Kennedy was 'one of their own'
The long line of Bay Staters waiting to pay their last respects to the senator Thursday was evidence of the intimate and powerful connection he had with his home state.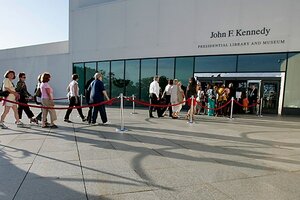 Adam Hunger/ Reuters
The mourners had supported his brother for president, shook his hand, or heard him speak. They called him Teddy, and felt he was a friend and trusted ally, even if they never met him.
To brave the mid-August sun and the crowds that built as the day wore on was the least they could do for a man who gave so much, they said.
The motorcade carrying Edward Kennedy's body arrived here at the John F. Kennedy Presidential Library Thursday afternoon, passing from his beloved Cape Cod home to Boston on a pre-planned route where thousands of Bay Staters lined the roads.
That Massachusetts loved its senior senator was evident long before his passing Tuesday. It was obvious every six years. Senator Kennedy won eight elections in total, six with more than 60 percent of the vote. Two of those times, he took more than 70 percent.
Only two men – Strom Thurmond and Robert Byrd – have held seats in the United States Senate longer.
Mourners here – both Massachusetts natives and visitors from as far afield as Florida – felt the weight of that service.
---