Good stuff, cheap. Cash-strapped Calif. holds a garage sale.
Governor Schwarzenegger hopes to raise $1 million. But the state is $26 billion in the red, and the fire sale probably won't help his flagging popularity either.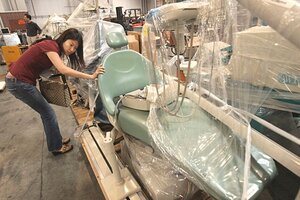 Rich Pedroncelli/AP
James Statham was the last man in a six-block line of bargain-hungry Californians waiting to pick through piles of keyboards, cast-off cameras, and computers, or to grab any bargain they could find at the "Great California Garage Sale."
Gov. Arnold Schwarzenegger's two-day tag sale is a bid to add about $1 million to the coffers of this cash-starved state, which faces a projected $26 billion budget deficit.
While the sale is a testament to the state's financial woes, it also illustrates just how much belt-tightening is going on across California as the economy continues to dip and unemployment rates hit a historic high of 11.9 percent in July.
For Mr. Statham, from Sacramento, and hundreds of other shoppers, the hours-long wait was worth it. He stood undeterred in mirrored sunglasses while gripping the hand of a restless youngster. Statham hoped to find a camera for his college-age daughter to use in a photography class.
Others wanted budget BlackBerrys or dirt-cheap love seats, coat racks, and desks, even kayaks and prison-issue shoes. Inside, the early birds found the best deals. They poked around stacks of 1960s-era mahogany desks and rows of outdated hard drives.
"I hope it's a good deal," says Judy Swartzendruber about the $350 she spent to buy a laptop and desktop computer. She drove 50 miles from Grass Valley, Calif., to attend the sale. While the crowds speak to California's economic woes, she says, they also show that people "look for bargains anyway. Good economy or bad economy."
Kay and Mickie of Sacramento stood next to a collection of wooden coat racks, trying to find one that hadn't sold already. By 9 o'clock Friday morning, they said, most of "the good stuff" was gone.
---