Kennedy and immigration: He changed the face of America
The senator's career-long crusade for a more open America had a profound effect on who lives in the country now. Like JFK, he said the US is a nation of immigrants.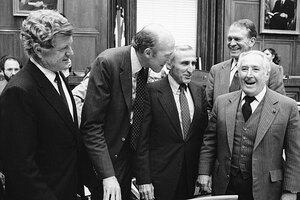 Ira Schwarz/AP/File
The next round of immigration reform promised by President Obama will be the first in more than 50 years that does not involve Sen. Edward Kennedy.
His record on the issue has quite literally changed the face of the nation.
From the 1965 overhaul that ended a system of national quotas to the failed drive launched in 2007 for comprehensive reform, Kennedy has been at the front lines making the case for a more open immigration system.
Taking a long view – compromising when needed, reaching for more the next time – he achieved it.
Senator Kennedy's tactics varied and coalition partners shifted during his 47 years in the Senate, but the core principle he defended never varied: The US is a nation of immigrants, he said.
"I look across this historic gathering and I see the future of America," he said at an immigration rally in Washington on April 10, 2006.
In speeches, Kennedy often invoked the Golden Steps he could see from his Boston office, where new waves of immigrants, including his eight grandparents, came off the docks into East Boston – and a world where "No Irish Need Apply."
1965: Quotas
In 1965, Kennedy led the drive for immigration reform in the Senate. Although some Irish groups lobbied against the bill, Kennedy said the current system of national quotas that favored northern Europe violated the American values.
---