On foreign affairs, Kennedy challenged presidential power
His most important vote, he said, was against the Iraq War. But he also had major impact on human rights and other issues.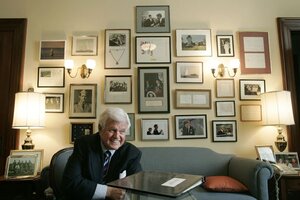 Pablo Martinez Monsivais/AP/File
While Sen. Edward Kennedy devoted most of his public life to domestic issues, he left a deep and varied legacy as a foreign policy entrepreneur, including historic challenges to presidential power.
Few senators have had the gravitas outside of the United States to make a difference in foreign policy. The president speaks for the nation, and when a member of Congress or former president sets himself up against the White House, it's typically an unequal match.
Moreover, for most of his years in the Senate, Kennedy was not a natural partner on foreign policy issues for the incumbents in the White House. Until President Clinton, Democrats saw him as a rival for the presidency. For Republicans, he embodied the liberal foe they had campaigned to defeat.
Yet Kennedy found opportunities -- in a speech, in a visit, in a vote to influence US foreign policy on issues ranging from peace and democracy to human rights. From Ireland and the Soviet Union to South Africa and Latin America, he also developed his own ties to foreign leaders and human rights activists, as tributes from capitals around the world this week confirm.
IRELAND
But for the patriarch of the America's most celebrated Irish-American family, his role in helping to broker a peace process in Northern Ireland was especially significant.
---