Reflections on Arlington Cemetery – Sen. Kennedy's final resting place
Presidents, generals, and Supreme Court justices are there. But mostly, it's ordinary servicemen and women who served their country without public acclaim.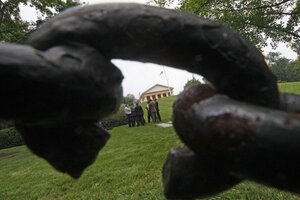 Jim Young/Reuters
No place in the nation's capital speaks more eloquently of the sacrifices required to build and defend the United States of America than Arlington National Cemetery.
When Senator Edward Kennedy is buried there Saturday on a hill overlooking Washington, his remains will be interred near those of his brothers John and Robert. He will also join 260,000 others whose resting places are marked with row upon row of simple white crosses and occasional Stars of David.
Heroes from the Revolution on
Arlington became a military cemetery during the Civil War when a home and property owned by Confederate General Robert E. Lee was seized and turned into a burial ground. Since 1864, veterans from the Revolutionary War through the current conflicts in Iraq and Afghanistan have been laid to rest in its 612 acres of carefully manicured lawns. Pre-Civil war veterans were reinterred after 1900.
Nearly 4 million visitors come to see Arlington each year. Some are drawn by President Kennedy's gravesite on the hill near the Custis-Lee Mansion. Others seek out the Tomb of the Unknowns, guarded around the clock by the 3rd US Infantry (The Old Guard).
Arlington contains the graves of the famous including two US presidents (Kennedy and William Howard Taft). It is also home to four Chief Justices and eight Associate Justices of the Supreme Court. Nineteen astronauts are interred, along with five of the nation's five star generals and admirals. The first female military pilot killed in combat rests there as does the only women correspondent killed during the Korean War.
---