Key Republicans bail on 'Obama-care'; Dems' options narrow
The Democrats are edging toward a go-it-alone approach to legislation. Part 1 of two.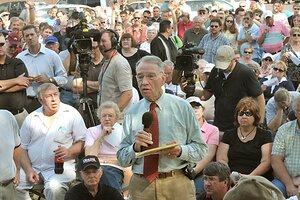 Steve Pope / AP
As key Republicans grow increasingly hostile to President Obama's plans for healthcare reform, the Democrats are edging toward a go-it-alone approach to legislation.
In the Senate, where normal rules require 60 votes out of 100 to halt a filibuster, the Democrats' hopes of passing a bill that way are hanging by a thread. The death of Sen. Edward Kennedy (D) of Massachusetts means the party is down to 59 votes in the Senate. It's still possible a Republican or two could be persuaded to vote with them, but they would still need to hold onto the more conservative Democrats in their caucus, and that's not a sure thing.
It's also possible the Massachusetts legislature will change state law and allow the Democratic governor to appoint an interim senator to fill Senator Kennedy's seat until a replacement can be elected on Jan. 19. That would restore the Democrats' 60-vote majority, but the issue of holding onto the party's moderates would remain.
In recent days, two key Republicans on the Senate Finance Committee have made that panel's bipartisan efforts toward reform look increasingly dubious. An August fundraising letter by Sen. Charles Grassley (R) of Iowa, which has just entered Washington's radar, asks for support in helping him defeat "Obama-care." He likens that to the more liberal versions of reform that have passed panels in the House and Senate, not what he has been working on in his committee. But the language in his letter is so harsh that it seems close to shutting the door on negotiations with Democrats.
"The simple truth is that I am and always have been opposed to the Obama administration's plans to nationalize healthcare," says the letter, a fundraising appeal for Senator Grassley's reelection bid that could include a challenge in the GOP primary.
---