City budgets set to get worse, 'tough decisions' ahead
The National League of Cities report released Tuesday suggests cities will have to get more innovative – perhaps privatizing important municipal functions.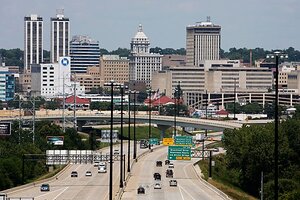 Jeff Hayne/ Reuters/ File
Despite recent headlines that suggest the recession is on the wane, the worst is still ahead for American cities, according to a report issued Tuesday.
The annual survey of the National League of Cities in Washington reports that 89 percent of city finance officers say they doubt that their city budget will be able to meet fiscal needs in 2010, which report authors say is the worst outlook the survey has reported in 24 years. Municipalities of every size are expected to struggle to fill budget gaps through 2011, the report says.
Declines in income and sales taxes, as well as falling property taxes, are challenging cities' ability to provide basic services.
"We're in a period where a lot of local governments have to make tough decisions about the service they provide, and how to raise revenue to fund these service, and what they want the community to look like going forward," says Chris Hoene, co-author of the report.
The report is based upon data from 379 cities with populations ranging from under 50,000 to over 300,000. The study is not comprehensive, though. For example, Detroit, which is suffering from a $250 million deficit and faces the possibility of receivership in the fall, was not included.
Yet the report has enough cities "to represent what is happening nationally," Mr. Hoene says.
The average budget gap is expected to reach 2.9 percent by the end of this year, with spending is forecast to increase 2.5 percent and revenues to fall 0.4 percent.
---