Are Biden's bold claims about the stimulus true?
The vice president said Thursday that the $787 billion recovery act helped save the US from a depression. He's partially right, experts say. But the rising federal deficit is worrying.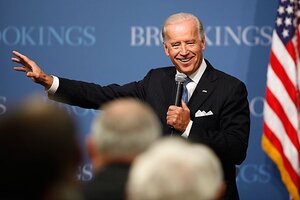 Charles Dharapak / AP
The White House on Thursday pitched a simple and decidedly upbeat message about its economic stimulus:
The $787 billion American Recovery and Reinvestment Act is boosting America's gross domestic product and helping to lift the nation out of recession, Vice President Joe Biden said in a speech.
"The recovery act has played a significant role in changing the trajectory of the economy," Biden told an audience at the Brookings Institution in Washington. "Instead of talking about the beginning of a depression, we are talking about the end of a recession."
Private-sector policy experts, however, are taking a more nuanced view.
Plenty of economists agree with Mr. Biden, saying the stimulus is helping. But many also are worried that the debt-fueled spending surge is going too far.
At a minimum, they say it's time for the US to start thinking about how to get its fiscal house in order.
It's a tricky balancing act. Data do suggest the stimulus is having an effect.
GDP will be higher this year, and unemployment lower, thanks to the mix of tax cuts, aid to states, and infrastructure spending that the recovery act includes, many economists agree.
Forecasters at Goldman Sachs estimate that thanks to the stimulus programs, economic activity was 2.2 percent higher in the second quarter than it would have been otherwise, and that the impact will peak in the current quarter at 3.3 percent.
---