White House's new stimulus message: It's helping you
Vice President Joe Biden and five cabinet secretaries on Thursday delivered speeches nationwide about how stimulus money is helping local communities.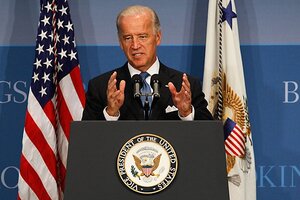 Charles Dharapak / AP
Vice President Joe Biden and five cabinet secretaries went on the stump nationwide Thursday to convince Americans that the $787 billion federal stimulus package is having a significant impact on their everyday lives.
The tone marked a shift for the Obama administration – departing somewhat from broad pronouncements about its effect on the American economy in favor of touting concrete examples in local communities.
• In Louisa, Va., Agriculture Secretary Tom Vilsack announced that a $3.3 million loan is resulting in a new wastewater treatment system in the central Piedmont region of rural Virginia, benefiting 585 residents.
• In Sacramento, Calif., Education Secretary Arne Duncan said stimulus funds either saved or preserved 125,000 jobs across the US that were threatened under state budget cutbacks.
---