Obama speech to students: Is flap a sign of polarized times?
The controversy over the president's back-to-school speech scheduled for next week may also reflect other concerns about government involvement.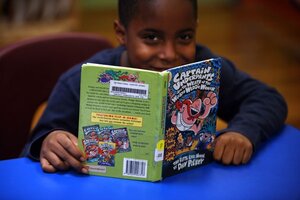 Melanie Stetson Freeman/The Christian Science Monitor
President Reagan delivered a back-to-school speech to students in 1988. The first President Bush did one in 1991. But the next two presidents – Bill Clinton and George W. Bush – did not. Now President Obama has one scheduled to be televised at noon eastern time on Tuesday, and the uproar from conservatives has left the White House shaking its collective head.
"I think we've reached a little bit of the silly season when the president of the United States can't tell kids in school to study hard and stay in school," White House spokesman Robert Gibbs told reporters Friday morning.
Still, the Obama administration has had to take the concerns seriously, as some school districts, principals, and individual parents have opted not to allow their children to see the speech. The White House will post the speech online on Monday, to allow parents and administrators to read in advance what the president plans to say at Wakefield High School in Arlington, Va. The speech will be broadcast live on www.WhiteHouse.gov and C-SPAN.
---