Obama's Labor Day rallying cry: 'Time to act' on healthcare
In a speech at an AFL-CIO picnic Monday, he signaled a harder line toward healthcare reform. But that might not be the full story.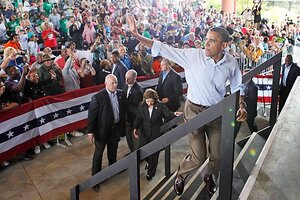 Charles Dharapak / AP
Like Clark Kent stepping into a phone booth, President Obama discarded his mild-mannered alter ego on a Cincinnati stage Monday in an attempt to rally his Democratic base and turn the tide running against healthcare reform.
Gone was the professor-president who took care to explain the complexities of healthcare in such painstaking detail during recent months. In his place was the president-preacher, quite literally before his choir – at least politically speaking – a Labor Day picnic of the AFL-CIO.
It was a glimpse of the president that many Democrats had hoped they had elected in November – a forceful figure using his considerable rhetorical repertory and a clear political mandate to grasp the presidency in his fist.
Instead, many have grown disillusioned by a president who has – in their eyes – caved in to the right far too often, whether on gay rights, a government-run option in healthcare reform, or cutting loose "green jobs" adviser and liberal up-and-comer Van Jones under pressure from Republicans and Fox News commentator Glenn Beck.
---