Baucus bill targets senators retreating from public option
President Obama's speech on healthcare reform Wednesday night will provide an opportunity for lawmakers to rally around a more moderate bill, centrist senators say.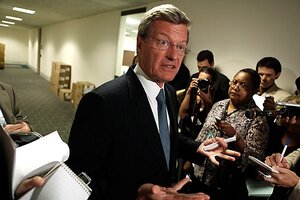 Evan Vucci / AP
Dealmakers on Capitol Hill are scrambling to stay relevant in the healthcare reform effort as President Obama prepares to announce his own priorities in a primetime speech to Congress Wednesday.
Senate Finance Chairman Max Baucus (D) of Montana is trying to push out the "framework" for a bipartisan bill before the president speaks. He is giving his co-negotiators – the so-called "Gang of Six" – until 10 a.m. Wednesday to submit modifications to his proposal.
The Finance Committee is the last of five congressional panels to produce a draft of healthcare legislation, and it is the only one to attempt a bipartisan strategy.
Centrists in both parties, battered by last month's town halls, are increasingly looking to the president's speech to Congress Wednesday evening as a chance to regroup around a more moderate proposal. Senator Baucus is aiming to fill this void.
His plan includes popular insurance reforms, such as protecting those with preexisting conditions and preventing companies from capping coverage. But it also funds the establishment of nonprofit, healthcare cooperatives to give consumers more choices in healthcare coverage. It does not include the government-run public option that House Speaker Nancy Pelosi and other liberals say is critical.
---