Sanford rebuffs SC speaker's call to resign
Sanford went on the radio Tuesday to defend himself as part of an image-rebuilding tour. House Speaker Bobby Harrell had called for his resignation earlier in the day.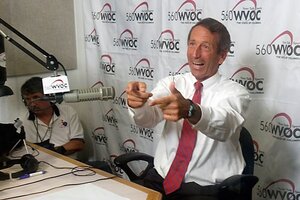 Mary Ann Chastain / AP
With top South Carolina political powers turning against him, a relaxed Gov. Mark Sanford took to the Columbia airwaves Tuesday night, offering unique insights into what makes the embattled governor tick.
As part of a image-rebuilding tour through the South Carolina heartland, Governor Sanford sought to put his Argentine affair behind him, throw doubt on his growing list of political enemies, and talk about "where we go from here" during an hour talk with WVOC (Voice of Columbia) radio.
On Tuesday, Republican House Speaker Bobby Harrell – arguably South Carolina's most powerful elected politician – called for Sanford's resignation, reversing his previous view that the general assembly should wait for the results of an Ethics Committee investigation before taking action.
Keven Cohen, the radio host, showed early on where his sympathies lay, calling the calls for his resignation and impeachment "a witch hunt." And only one caller threw a hardball – about the governor's decision to add Buenos Aires – the hometown of his ex-mistress – to a Brazil trade trip.
Sanford invoked again his belief that God chooses imperfect people to do his work on earth, noting "If God's going to make lemons out of lemonade, you've got to stay around for the second part of the show."
---