Democrats urge interim Kennedy replacement
A temporary replacement for Kennedy's Senate seat would let Democrats maintain their crucial 60 votes in the Senate. But state Republicans oppose the move.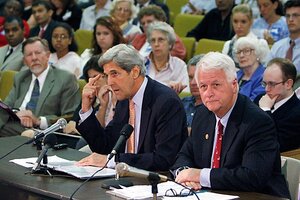 Bizuayehu Tesfaye / AP
It was a full house. Citizens from across Massachusetts crowded a Statehouse auditorium Wednesday wearing buttons with the slogan, "Do it for Ted," and holding signs that read, "Honor the law, protect democracy."
Most prominent were the bold blue stickers: "We need two Senators."
Sen. John Kerry (D) led state Democrats' demand Wednesday for an interim replacement to fill the late Edward Kennedy's Senate seat until a permanent one can be selected in a special election in January. At a public hearing held by the Massachusetts Joint Committee on Election Laws, Senator Kerry and Rep. Bill Delahunt (D) stressed that Massachusetts needs two Senators to best serve its citizens.
"One vote can make all the difference," said Kerry, citing examples in the history of the Senate where legislation hinged on a single Senator's vote. He added that pending healthcare, climate change, and financial reform legislation this fall will make it "the busiest, most hotly contested" schedule before the Senate in recent times.
An interim senator would preserve the Democrats' filibuster-proof 60-vote Senate majority.
The idea was first proposed by Kennedy himself in a letter to the governor and lawmakers before his death last month. But state Republicans accuse Democrats of being hypocritical – it was a Democratic-controlled legislature that created the law in 2004 to prevent then Republican Gov. Mitt Romney from appointing a GOP replacement for Kerry if he won the presidential election and vacated his Senate seat.
---