Healthcare reform: Can Democrats give up public option?
As Obama calls on Congress to pass reform, the Democrats are still split on the need for a public health insurance option.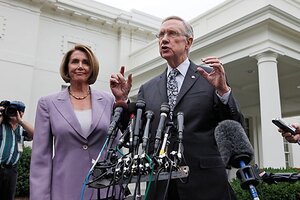 Charles Dharapak/AP
As President Obama prepares to speak at a joint session of Congress, the lines in the sand over a public option in healthcare reform are wearing thin for Democrats.
Speaker Nancy Pelosi says there will be no healthcare reform legislation in the House without a public option. Democratic centrists say the Senate cannot pass any bill that has a public option in it.
But there is broad and robust agreement among Democrats on a more critical point: Congress must move on healthcare this fall. Put another way: It's time for leadership – and not only from the White House.
"We as a caucus know where we are and what we can get," said Senate majority leader Harry Reid after a caucus lunch today.
Sen. Max Baucus (D) of Montana, who chairs the Senate Finance Committee, has been leading bipartisan negotiations over healthcare reform with the so-called Gang of Six since last spring, signaled Wednesday that he is about out of patience.
"There is a time and a place to discuss and to reach decisions," he said. "Today, I told leadership, the president, Democrats, ranking member [Charles Grassley] and others that next week we are going to mark up a bill."
---