Obama's push for health reform: What are the hurdles?
Behind the political squabbling over reform proposals are substantial issues of cost and access to care.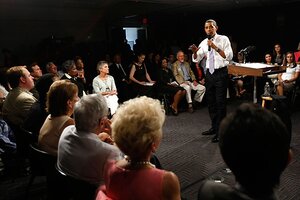 Kevin Lamarque/ Reuters
President Obama's pursuit of a healthcare overhaul, which intensifies Wednesday night with his address to Congress and the nation, has put sharper focus on a central and perplexing issue: how to control fast-rising costs. The politically easiest path is probably to put off the day of reckoning on costs, but Mr. Obama and fellow Democrats face risks if they push for expanded access to healthcare while failing to address the spending spiral.
This report surveys the choices ahead on a problem that's thorny but not insurmountable.
Q: Why did the push for healthcare reform run into obstacles? Is cost the key issue?
A: Underlying the debate are substantive issues, and cost is one of the biggest. Obama's push comes even as Americans are on edge financially – with workers eyeing a weak job market and taxpayers fretting about rising federal deficits, which are already at a record level due to economic stimulus measures and bank bailouts.
Against that backdrop, the nonpartisan Con­gres­sional Budget Office said early this summer that one Democratic health-reform package would probably add about $1 trillion in government spending over the next decade. The message: There's no free lunch. Indeed, reducing the number of uninsured Americans will add costs to a system that's already the world's most expensive per person.
This doesn't mean that a healthcare bill can't pass Congress. About 45 million Americans don't have health insurance, and millions who do are still worried that it's only as secure as their jobs. Americans want major reforms involving access to care – but they also want fixes for those obvious issues of cost and affordability.
Q: How big is the problem of rising medical costs, if there's no cost-cutting reform?
A: It's so large that many economists see a fiscal crisis ahead for the federal government. Much of the burden also falls on states and employers and directly on families.
---
Follow Stories Like This
Get the Monitor stories you care about delivered to your inbox.