Mike Duvall sex scandal: Did he break lobbying rules?
The GOP California lawmaker who was caught on video making sexual boasts is being investigated for a reported tryst with an energy lobbyist.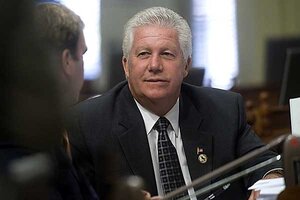 Hector Amezcua/ The Sacramento Bee/ AP
California Assemblyman Mike Duvall's caught-on-tape sexual boasts certainly suggest a lapse in judgment by the socially conservative Republican lawmaker.
But the Assembly Ethics Committee is now investigating whether there were also serious ethical failings that would have influenced his legislative decisionmaking. Some watchdog groups suggest laws could have been broken, too.
The tape shows Duvall, who was vice chair of the Utilities and Commerce Committee, describing detailed trysts with two women to fellow Assemblyman Jeff Miller, a Republican from Corona, Calif. The Orange Country Weekly identified one of the women as Heidi DeJong Barsuglia, a lobbyist for the energy firm Sempra Energy.
Sempra has denied the affair and says it is investigating the matter "to ensure not only that our policies on employee conduct are adhered to, but also that our employee is treated fairly."
Mr. Duvall resigned Wednesday but on Thursday he said that his resignation should not be taken as an admission that he actually had an affair. In a statement, he described the incident as simple "story-telling."
Already, watchdog groups are calling it an example of the all-too-close relationship between lobbyists and lawmakers in Sacramento.
"The blatancy and the arrogance of this instance is a wake-up call to get much tougher limits on lobbying," says Judy Dugan of Consumer Watchdog, a Santa Monica-based advocacy group. "It's not a new problem."
---