Republicans discouraged by Obama's healthcare speech
For GOP lawmakers on Capitol Hill, the takeaway is that the president and the Democrats are poised to move without them.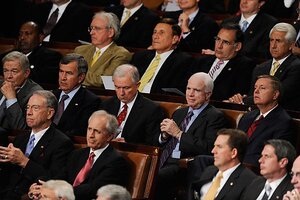 Susan Walsh/ AP
What Republican lawmakers heard from President Obama's address to Congress Wednesday night wasn't the invitation to join him on health reforms he sees as central to America's well-being, but rather the message that he is prepared to move without them.
"I will continue to seek common ground in the weeks ahead. If you come to me with a serious set of proposals, I will be there to listen," Mr. Obama said. "But know this: I will not waste time with those who have made the calculation that it's better politics to kill this plan than improve it."
In a silent protest, House Republicans waved copies of their own proposed legislation as the president spoke – proposals they say are serious but have not been taken seriously by House leaders or the Obama administration.
The key demand on the Republican side coming out of the president's speech is more time to work out a bipartisan solution. Congressional leaders and the White House signaled this week that time for that has about run out.
"We're willing to work with anyone who wants to work with us. I still think there are people on both sides who want to work with us," said presidential adviser David Axelrod, speaking to reporters after the president's address. "But at the end of the day, this is not just a matter of process, it's a matter of progress. We'll do what the situation requires," he added, referring to the possibility that the Senate may resort to a tactic that requires a bare majority vote in order to advance the legislation.
---