Was Joe Wilson right? Facts on illegals and healthcare.
The Republican lawmaker from South Carolina shouted 'You lie!' after Obama said in his speech to Congress that illegal immigrants wouldn't be covered.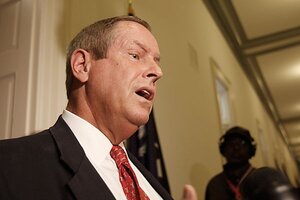 Harry Hamburg/ AP
Would illegal immigrants be covered by Democratic healthcare reform proposals, or not?
That's an issue that has come up at many town-hall meetings held this summer by US lawmakers. And it hit the airwaves big time on Wednesday night, when Rep. Joe Wilson (R) of South Carolina shouted "You lie!" after President Obama said in his speech to Congress that illegals wouldn't be covered.
Representative Wilson later issued an apology, saying he let his emotion get the best of him. But he still said he disagreed with Mr. Obama's statement.
Here's one fact: Obama was correct in asserting that illegal immigrants would be barred from receiving subsidized health benefits by language included in all proposed Democratic reform bills.
A recent Congressional Research Service (CRS) report that looked at this issue noted, for instance, that to be eligible for help under the House health reform bill, "individuals must be lawfully present in a state in the United States."
Furthermore, illegal immigrants would not be required to have health insurance, under the individual-mandate portion of the bills, according to CRS.
Thus, most fact-checking journalistic organizations deem the assertion that illegals would be covered by the Democratic efforts to be untrue. For instance, PolitiFact, a Pulitzer Prize-winning fact site, gives the statement a "Pants on Fire" negative rating.
---