For today's teens, a politics website of their own
They're more engaged in politics than Generation X was – and are looking for ways to voice their views.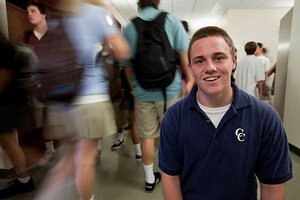 Fred Greaves/Special to The Christian Science Monitor
Connor Toohill and his friends get so stirred up about public issues that they draw fellow airplane passengers into debates and informal polls on the way home from Model United Nations conferences.
It's a side of teenagers that many adults don't see, they say, much less turn to for input during lofty discussions about how education, healthcare, and government deficits will affect the "next generation."
But now they've launched a website to give voice to their own up-and-coming cohort. Since July 4, NextGenJournal.com has been publishing opinion pieces and interactive discussions by teens and 20-somethings, with topics ranging from domestic and global politics to sports and culture.
"We didn't have a forum so we decided to create it," says Connor, now a senior at Cathedral Catholic High School in San Diego. The site welcomes views from all sides of the political spectrum. "We're not letting a certain ideology dictate what we post," he says.
The site is perhaps another indicator that today's youths – coming of age doing public service projects and flexing their muscle in the presidential election – expect to make a difference in their world.
"Young people ... have found a way to communicate what they care about through technology, through social networks, through text-messaging ... and to pressure each other and encourage each other to care about things," says Erica Anderson, a young freelance journalist who covered election news for MTV and whose own website, Erica-America.com, fits into the trend. NextGenJournal and other youth-focused sites, she says, are "the beginning of something very huge."
---