Joe Wilson aftermath: Illegals get scrutiny in health reform
Current healthcare bills don't explicitly mention how illegal immigrants would be treated under some important provisions.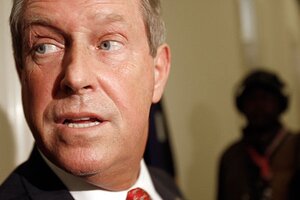 Harry Hamburg/AP
Rep. Joe Wilson's heckling of President Obama has pushed the issue of illegal immigrants to the fore of the healthcare-reform debate.
It has also raised issues of legislative civility, but we'll look at the illegal immigrant question first.
Representative Wilson, a Republican from South Carolina, became instantly famous after he shouted "You lie!" at Mr. Obama during the president's speech to Congress on Wednesday night. The moment came after Obama had said that illegals wouldn't be covered by Democratic health-reform efforts.
Problem is, based on the language included in all proposed Democratic bills, Obama was correct in his assertion. Virtually all fact-checking organizations agree.
The Pulitzer Prize-winning website PolitiFact, for example, rates Wilson's charge on this particular point to be "false."
However, Republicans in general charge that since none of the bills contain enforcement mechanisms to check that recipients of government subsidies are legal, illegal immigrants would be able to sneak into the system and get US cash anyway.
The House bill, for instance, is silent on the enforcement question, PolitiFact notes.
---