With Mike Duvall, fall of another 'family values' crusader
The California lawmaker caught on tape boasting about his trysts is the latest conservative to disappoint a movement built on upholding marriage and traditional moral values.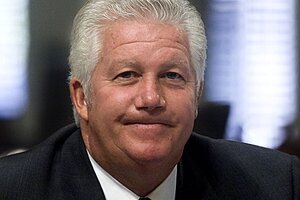 Hector Amezcua, The Sacramento Bee/AP
California Assemblyman Michael Duvall, who resigned Wednesday after TV broadcast tape of him boasting of his extramarital sexual trysts to a fellow lawmaker, is just the latest in a string of conservative politicians to be involved in a sex scandal.
But with so many champions of family values falling from grace – from South Carolina Gov. Mark Sanford to Sen. John Ensign (R) of Nevada to former GOP Sen. Larry Craig – is the movement taking a hit at all?
Mr. Duvall, a Republican who is married with two adult children, was caught on tape speaking in detail about women he had purportedly slept with. Duvall has since denied any affairs and said his offense was "engaging in inappropriate story telling and I regret my language and choice of words."
"Their self-appointed status as champions of 'family values' has denigrated, invalidated, and most definitely diminished their political movement's family-values trump card," says Carleton Kendrick, a parenting expert with 30 years of experience.
The public has come to expect hypocrisy from politicians, but family values falls in a different category, say some political scientists.
---