Schwarzenegger veto of renewable-energy bill could be risky
The California governor wants to use his own plan to push the state toward using 33 percent renewable energy by 2010. But it might not be legal.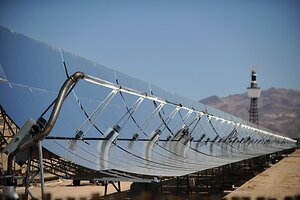 Newscom
Several environmental groups worry that California Gov. Arnold Schwarzenegger's attempt to take control of the state's landmark renewable-energy standards is putting the entire effort at risk.
The state legislature passed a bill Friday that would require California to get 33 percent of its electricity from renewable sources by 2020. If signed, the bill would give California the largest, so-called "renewable portfolio standard" in the country.
But Schwarzenegger spokesman Matt David issued a statement saying Governor Schwarzenegger would veto the bills, calling them "poorly drafted, overly complex bills."
Instead, "the governor will sign an executive order implementing the 33 percent renewable mandate administratively," Mr. David wrote.
Schwarzenegger is ostensibly trying to boost California's nascent renewable energy sector, specifically. His executive order would set limits on how much could be imported from outside the state.
David said of the bills: "These are protectionist schemes that will kill the solar industry in California and drive prices up like the failed energy deregulation of the late 1990s."
But critics aren't sure if his order will still be binding once he leaves office in 2010 and predict possible legal challenges.
---