White House ties new gas mileage standards to global warming
Officials say 35.5 m.p.g. rule will cut foreign oil demand, lower greenhouse gas emissions, and save drivers money.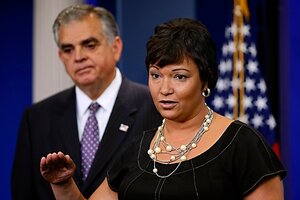 J. Scott Applewhite / AP
The Obama administration Tuesday trumpeted the nation's first-ever greenhouse gas emissions standards for vehicles, which it said clarifies rules for automakers and takes a big step toward meeting climate change and energy security goals.
The new regulations tie emissions and fuel economy standards together, requiring the new light-duty vehicle fleet to average 35.5 miles per gallon by 2016, four years sooner than the 2020 deadline set by Congress in 2007.
The new mileage-and-emissions rule means new cars must for the first time emit no more than 250 grams of carbon dioxide per mile. That will cut 950 million metric tons of greenhouse gas emissions while also improving fuel consumption -- cutting US oil demand by 1.8 billion barrels, officials said.
Will drivers save money?
So even if cars and light trucks cost up to $1,300 more as a result of new technology additions, they will also pay for themselves more quickly, saving new car owners more than $3,000 in fuel costs, the White House said.
"American drivers will keep more money in their pockets, put less pollution into the air, and help reduce a dependence on oil that sends billions of dollars out of our economy every year," EPA Administrator Lisa Jackson said in prepared remarks. "We have crafted a path forward that is win-win for our health, our environment, and our economy."
The White House unveiling of the new rule featuring Ms. Jackson and Department of Transportation Secretary Ray LaHood was clearly intended as a high profile event to put the Obama administration's stamp on US energy and environment policy.
Environmentalists agreed, hailing the move as a landmark.
---