Baucus healthcare plan takes flak from both sides of the aisle
Republicans say it's too costly. Liberal Democrats complain that it doesn't do enough for the uninsured. But unlike House plans, it wouldn't add to the deficit.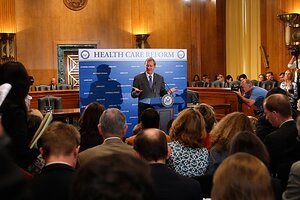 Hyungwon Kang / Reuters
The test of how far the Baucus plan moves the congressional debate on healthcare reform comes down to how many Republicans sign on to the plan. So far, the answer is none.
Democrats waited months for the so-called Gang of Six in the Senate Finance Committee to produce a bipartisan plan, first targeted for release last March. The Finance panel was the only committee to attempt to work with Republicans to develop a draft proposal.
In the end, Sen. Max Baucus (D) of Montana – facing a deadline to start the Finance Committee markup next week – stood alone.
For now, his Republican co-negotiators are not with him, including Sens. Charles Grassley of Iowa, Michael Enzi of Wyoming, and Olympia Snowe of Maine.
"This is the most complicated bill any of us have ever worked on. It affects about 16 percent of the economy and 100 percent of the people. ... Although there is a sense of urgency, getting it done fast is not as important as getting it done correctly" said Senator Enzi, in a statement. He and other Republican leaders are calling on a refocus on the issues where there is broad, bipartisan support.
---