Bill Clinton's nod galvanizes Newsom campaign in California
The former president threw his support in the gubernatorial primary to the San Francisco mayor. Some see payback against likely candidate Jerry Brown.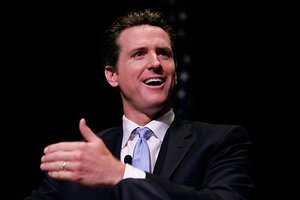 Paul Sakuma / AP
News that former President Bill Clinton is throwing his support behind San Francisco Mayor Gavin Newsom for California governor has galvanized the fledgling Newsom campaign, thrown the spotlight on the gubernatorial Democratic primary – and has political pundits asking, "Why now?"
"Clinton and Newsom don't necessarily equate on public policy and everyone is still waiting to see if Dianne Feinstein will run, so the only reason appears to be helping Newsom raise money," says Barbara O'Connor, director of the Institute for the Study of Politics and Media at California State University in Sacramento.
"Newsom clearly needs a shot in the arm and Bill Clinton has a large Rolodex for California," she adds.
---